With this new version of eRoom there will also be a new corresponding version of the eRoom plug-in. The new plug-in will support Chromium based web-browsers like Google Chrome and Microsoft Edge.
This article is a guide for setting up plug-in with these browsers. And Tribia will recommend moving away from Internet Explorer since this will not be supported by Microsoft second half of 2021.
When first logging in to eRoom with this new version you will be met by this option on the front page



select plug-in and 'OK'.
The page will then attempt a validation of plug-in installation and a browser extension



and if plug-in and browser extension is not installed it will suggest adding an extension to your browser


Click on 'Install' (or follow this link to Chrome Store if this yellow banner does not show: OpenText Documentum Client Manager - Chrome Web Store (google.com), or the extension can be downloaded from the attachments of this aticle)
When you click the 'Install'-button with Edge you will get this prompt to allow adding extensions from Chrome Store



Click to allow.



and click 'Allow' again when prompted.
You should then get this verification




When yYou are in the Chrome Store, click 'Add to Chrome' to add the extension



and verify your selection by 'Add extension'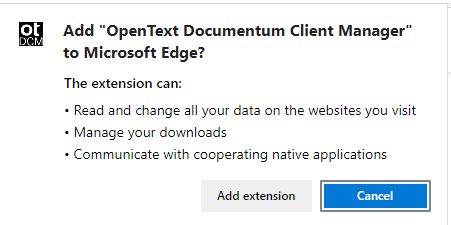 ,
the extension will then be added to your browser, and this verification will show


.
Navigate back to eRoom, and you will be met with the same page as at the top of this article.
Select plug-in and 'OK'
It will attempt to validate once more, and if plug-in is not installed it will route to an installation page.



Click 'Download' if download does not start automatically, or you can download the file found under attachments at the bottom of this article.



Let the file complete download, and run/open file.
Follow the installation instructions as shown.
During installation there might be a pop-up window that hides itself behind the currently focused window, which is shown on the task bar by a blinking orange symbol



click the symbol and see this message



where you will need to click 'OK' in order to progress installation.
When installation is completed, the Plug-in can be startred by



and you will then get prompted by this option for your preference




After the plug-in and browser extension has both been added, and you log in to eRoom, you should be met by this prompt to add this user account and eRoom site to the plug-in, click 'Yes'

Within 'My eRooms' -> 'my member info' you will have the option to enable (or disable) the plug-in by activating or deactivating the check box.


Article attatchments: